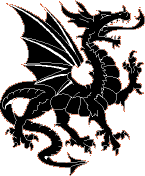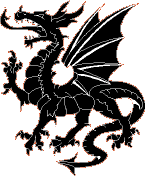 FIREWING'S LAIR

A Chamber within

CASTLE CHRIZWIZ
&nbsp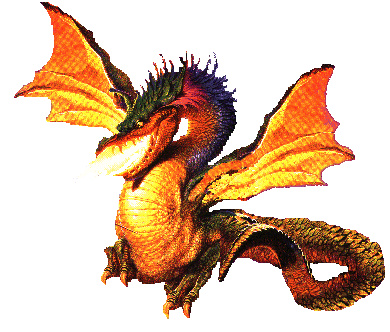 THIS IS FIREWING
Firewing is a mature dragon, of seven hundred seventy-seven years, and quite powerful. He is tempermental, quick to anger, but he has a sensitive side, too. He is the mate of Fairywing, and the father of Draco and Marco, and he is intensely loyal to them.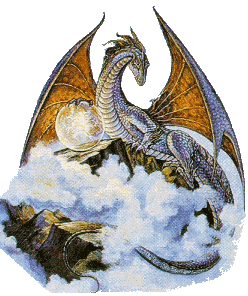 THIS IS FAIRYWING
Fairywing is Firewing's mate. She is younger than he, only three hundred thirty-three years old. They have been soulmates since they were dragonlings. She is somewhat shy.
Firewing and Fairywing's offspring are Draco and Marco.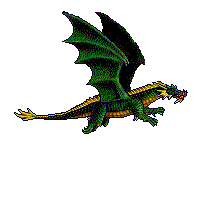 DRACO THE MAGNIFICENT
AND
MARCO THE VALIANT
Draco is eleventy-one years old, while Marco , the baby, is ninety-nine. Draco and Marco are still small, because they are just dragonlings, but they are very handsome. These two are Master Chrizwiz's best friends.
These are some other members of Firewing's lair family:
&nbsp
Glowbrightly,
(named so because sunlight causes her scales to glow brightly, of course!)is Fairywing's sister.
Groanloadly,
(guess why he's named THAT!). He's Glowbrightly's twin brother, and Fairywing's brother, too.

Jadewing
is a grandnephew to Firewing

Spiderwing
is a second cousin, once removed, to Firewing.
[Dragons must keep very careful note of their family bloodlines, you see. It's quite important when you share a lair!

The fellows at the top are also twins, Evel and Knevel. They are the black "sheep" of the family, and no one wants to claim them. :-(( ]

"Never laugh at a live dragon"
Gandalf

(J.R.R. Tolkien, "The Hobbit")
Write to me! Dragons love e-mail!


| Front Page | Homepage | My Art | My Pets | My Fish |
| Favorite Links | Favorite MIDIs | Firewing's Lair |
| The Gundam pilots | The Gundam Suits | The Inuyasha Page |

If you are aware of specific images that are displayed here that you own the copyright to, please e-mail me requesting proper credit, including disclaimers, copyright notice, etc., as well as a link to your web site. Of course, images will be removed upon request of the copyright owner. No infringement is intended.